If you've ever downloaded a folder from a Torrent which says it's an ISO, but all you get is a bunch of RAR files or R01, R02, R03, etc. then follow this tutorial to know how to get the ISO file.
Open the downloaded folder.
As you can see, we have 18 RAR files or "parts" of the overall ISO. Some games might have more and some might have less. There are other files in there, such as HTML files or website links. Ignore these, these are just for advertising the team that made the ISO. Sometimes you might get a file with extension of SFZ or SAZ. Some shit like that. Anyways, ignore that file as well.
Highlight all the parts of the ISO and right click on them and select your archiving program's context tab. I'm using 7Zip. Make sure you have all the parts selected and choose "Extract Here". This will combine all the parts into an ISO file which will be placed in that same directory.

A popup will show detailing the progress of the extraction. If you have a fast computer, it will take a minute or two. If your computer has a Pentium 4 or similar processor (obsolete), it could take an hour or two. Also, you might get an error saying the ISO file is broken, ignore this message. If it asks for you to replace something, choose "Yes to All".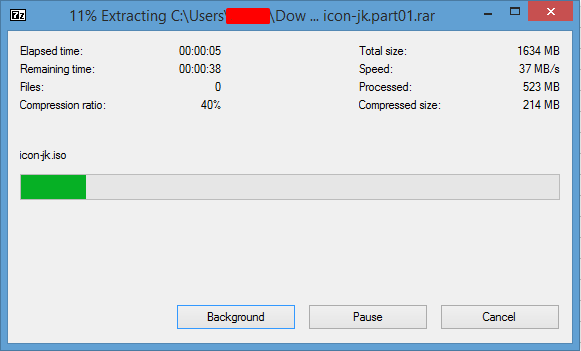 Once finished, you will have the ISO that you can use with your emulator, USB loader or play on your PC, if it's a PC game.
That's it. I hoped you enjoyed this tutorial!